OnePlus derives almost a third of its global revenue from India and it's a sign that the company is doing well when it posts shipments. Not only that, but Counterpoint reports that during the second quarter of this year OnePlus shipped more premium phones than Samsung for the first time in its history.
Counterpoint defines the premium segment as phones costing INR 30,000 and above ($440/€370). That may seem a bit low for a premium segment, but it's partly because OnePlus and others are aggressively pushing high-end phones below the INR 40,000 mark and are skewing the market.
The OnePlus 6 topped the charts, its accounted for 30% of the premium phone shipments. The Samsung Galaxy S9+ is a distant second, followed closely by the OnePlus 5T. The 5T saw an uptick as OnePlus cleared its inventory ahead of the launch of the 6, but wasn't available during the whole quarter.

People preferred the Galaxy S9+ over the S9 as they were willing to pay a bit extra for the larger screen and second rear camera. Still, shipments of the S9 duo fell 25% compared to the S8 duo from the same period last year (you can see the Q2 2017 peak). This put Samsung's market share at a still good 34%, behind OnePlus at 40% and well ahead of Apple at 14%.
Samsung relied on promotions and a strong offline presence. It's not just Samsung though, most companies relied on discounts and deals. Cashback offers proved the most successful – 8 out of the top 10 phones for the quarter were available with a cashback offer.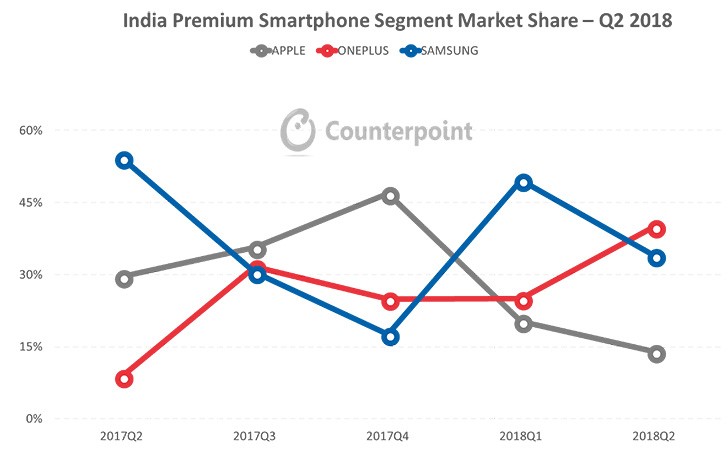 Apple's troubles are partly because the iPhone 8 and iPhone X are getting old (new models coming soon) and because of the higher duty tax (which was raised to 20% on April 1). Still, OnePlus, Samsung and Apple have a controlling 88% share of the premium segment.
That segment grew 19%, basically on par with the 18% growth of the Indian smartphone market as a whole. The segment got crowed with competition from Huawei's P20 phones, the vivo X21, the Nokia 8 Sirocco and LG's V30 phones.